Gaining my happy weight and becoming totally happy with myself resulted in me growing out of my dress unfortunately. So while taking this pic ,of course, I was sucking my stomach in! 😂 (& it came out flawless). Though I wanted the dress to fit perfect, all that mattered is that I was happy with myself.
Prior to this photo shoot I had been struggling with self esteem issues with how I looked and I wanted to gain weight. I didn't like my self in the mirror. I had a problem with this my since I could remember and I couldn't let it control my life anymore.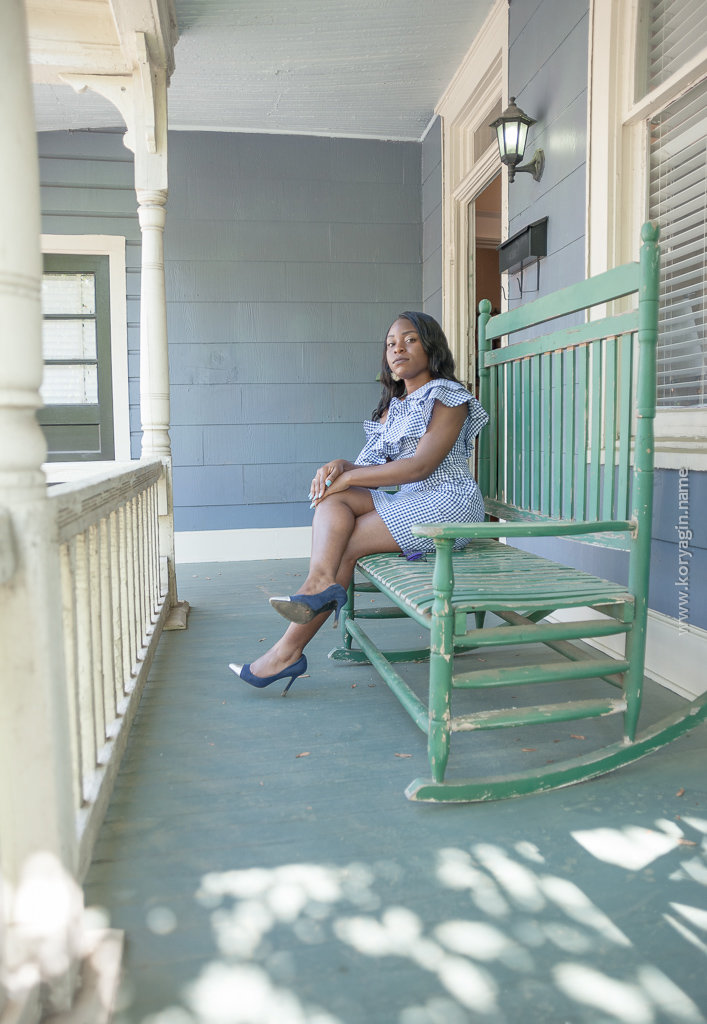 We all have insecurities that we deal with on a daily but my problem was causing me too much stress and triggering my anxiety. I thought I was too skinny and I didn't want to be. My dilemma was that stress made me lose more weight and hate myself even more but I couldn't stop my stress. The more I stressed the more my body was deteriorating and breaking my self esteem down. It may surprise many people but some women are unhappy with being very little or "bonnie". The type of body they have prevent them from gaining weight at all or as fast as others. I know many may say so many women would love to be skinny, but if you are unhappy with yourself nothing pleases you. This was a problem for me because I prefer to see myself with a little curves rather than really skinny. I tossed and turned at night because I didn't like how my body looked. So when I accomplished my goal by gaining these few pounds I kind of didn't care that I couldn't fit in my dress. I liked the fullness in my face and thickness in my legs.
My advice to anyone struggling with weight problems is to do whatever makes you internally happy. Rather you want to gain or lose weight put your mind to it and believe it will happen. Don't do it for others, but do it for yourself. When your in the process of changing yourself give your body time and don't stress. It causes you not to make your goal. When I stressed I lose more weight which stressed me out even more. The problem is when we get to our idea weight and someone else doesn't like it we are unhappy because we try to please other people. Society had made us like that. We don't have to have the American ideal weight. We should be pleased with an healthy weight that we choose for ourselves. We all have different genes that distinguish us apart so of course we come in different shapes and sizes. Choose your ideal weight and look for yourself!
The reason why I love this dress was because it made me feel beautiful. It showed my lovely skin tone of my shoulders and made me smile. This dress has been with me for the longest! I purchased it last year around August. I wanted to capture the perfect scenery just for this classy dress, so I waited until I had all my resources and plan together. But before I go into details about how amazing the picture came out regardless..lets dive into where I've been & what I have been doing these past few months!?! WORKING AND TRAVELING! Yeahh..that's why I've been away from my blog.
While many of u follow me on Instagram you know that I love to visit unique places. Well all of that came into handy when picking the set of the shoot which is close by Mlk historic town. It's at this Cabbagetown museum named The Patch works. The history's center mission is "to preserve, sustain, and maintain the historical identity, relevance, and integrity of Atlanta's cabbagetown." Its historic feel is exactly what I wanted my look to portray. I wanted it to be like something that dated back in the 50's. It matched the vibe of this one-shouldered blue & white plaid dress. The dress definitely has a chic style with its flounced ruffles, side pockets, and side zip. Which is the ONLY way I got into the dress! Thank u H&M for making alternative ways of fitting in a dress! When it was time for action the first couple of photos were money shots!! Let me know your views on which ones are your favorite!